Safe Guns in Safe Places for Safe Families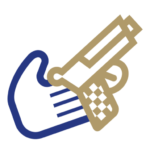 Private Party Transfers happen between two individuals and will need to take place at a Federal Firearm Licensed Dealer.
It is illegal to sell or give anyone a firearm without going through an official process, which is why we offer people in and around Front Range legal gun sale and transfer services.
Both parties need to be present for our Front Range legal gun sale services. The buyer will need to have a valid ID, proof of residence, a Handgun Safety Certificate (HSC), be legally able to posses a firearm and successfully complete a background check by the Colorado Department of Justice. There is usually a cost of about $25-$35 and a ten-day waiting period.
Since this needs to be done at a Gun Shop, we cannot offer Front Range legal gun sale and transfer services in-home.
If you have inherited or legally obtained a firearm, CGS can help with Front Range gun registration. We can provide you with a Voluntary Registration form or you can download it from the Colorado Department of Justice which is NOT required to do at a gun shop.
Colorado Gun Services has a Federal Firearm License and can legally come to you and take possession of a firearm without a Gun Transfer. The process happens when the gun is destroyed or transferred to the next owner.
What Our Clients Are Saying
"Thank you for making a very uncomfortable situation for my sister so easy. We are very happy to have that particular process behind us."  
-Maurie S. 
"Lee and Jenna were incredibly knowledgeable, friendly, and professional. My husband knows quite a bit about firearms and I know very little, we were both impressed by their ability to address our needs and offer their expertise. I would highly recommend them to anyone in a situation where they need to safely and legally remove weapons or ammunition from their home. "
-Jessica Thompson